The Lacrosse Goalie Virtual Summit 2
3 days of amazing lacrosse goalie training all from the comfort of your own home!
November 11, 12, and 13 

VIRTUAL LACROSSE GOALIE SUMMIT 2
STARTS NOVEMBER 11TH!

00
days
00
hours
00
mins
00
secs
Don't miss out on the lax goalie summit of a lifetime
The Lacrosse Goalie Summit 2 is an online educational event for lacrosse goalies, coaches, and parents to educate you on what it takes to become an elite goalie (or goalie coach). 
Each coach will present on a different topic all designed with 1 thing in mind. Make you a better lacrosse goalie! 
I'm so excited to present all of these amazing lacrosse goalie coaches to you over the course of 3 magical days.
100% Online and 100% Free.
November 11, 12, and 13th! 3 to 4 sessions per day!
What are folks saying about the Virtual Lacrosse Goalie Summit?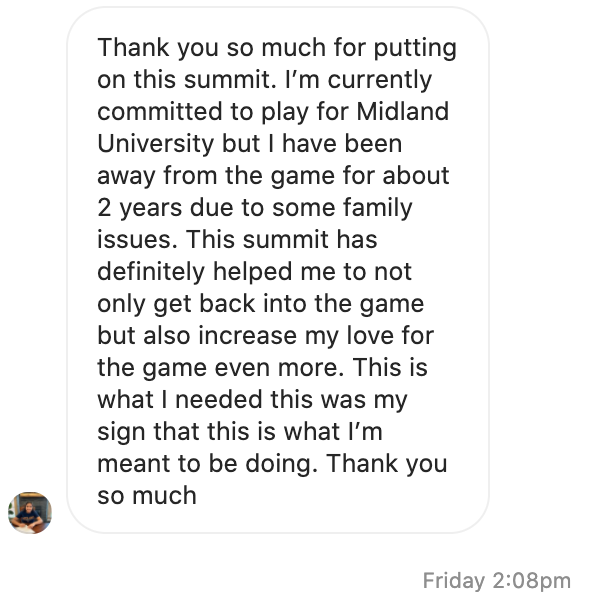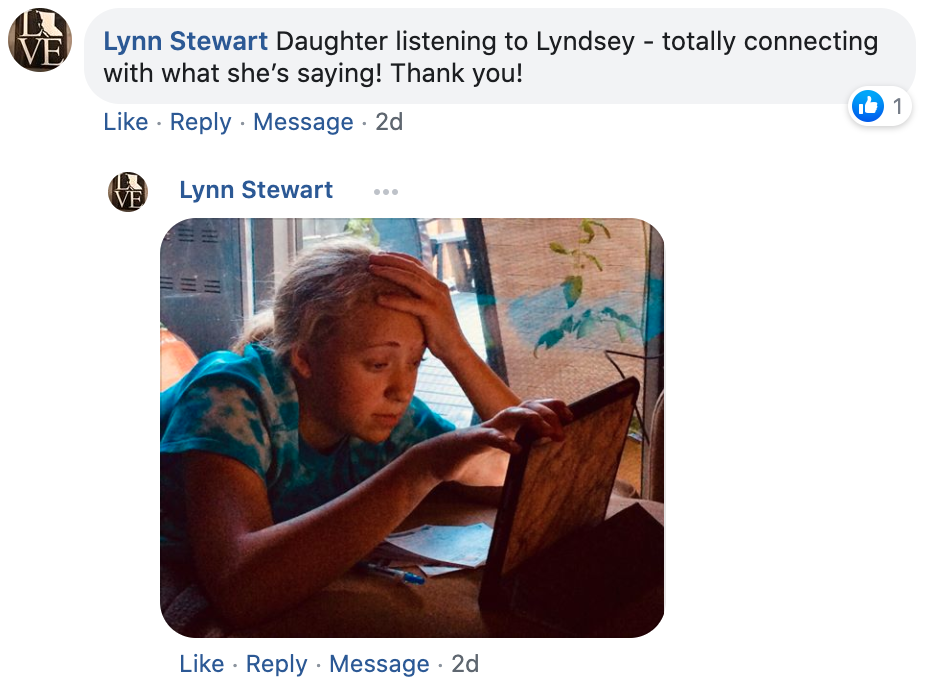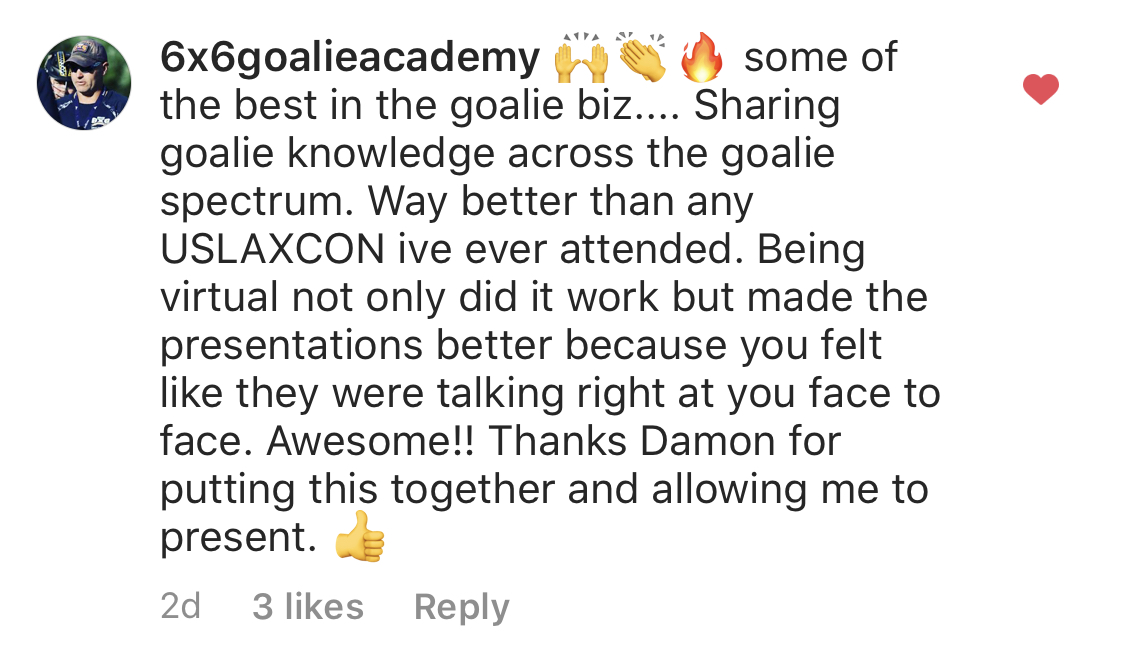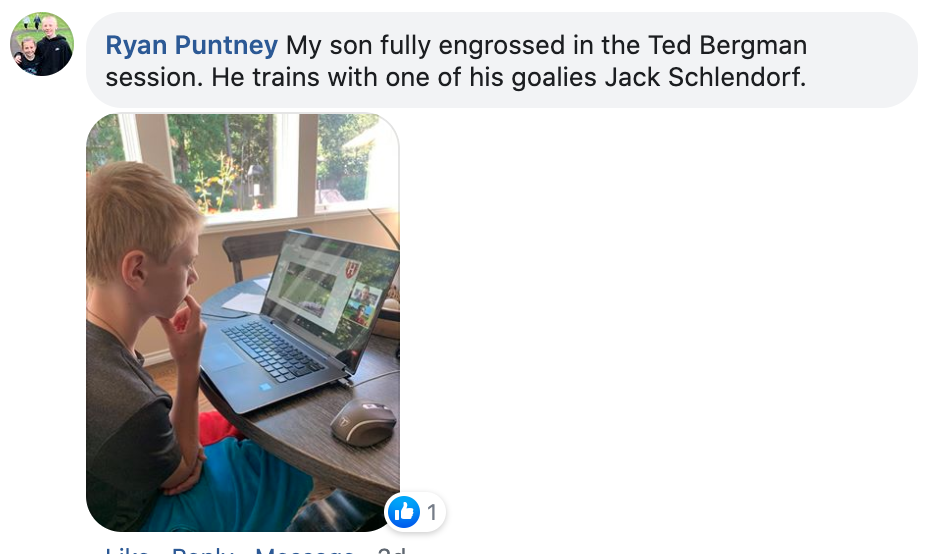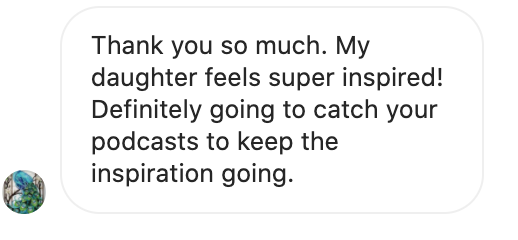 Meet the Coaches
From around the world, we've lined up some of the truly best goalie minds out there!
Ted Bergman

Bottom Hand Save Technique
Coach Bergman will share a revolutionary technique that helped him win goalie of the year at Wesleyan. This completely changed how I coach the position.
Wednesday November 11 - 5pm EST

Sean Quirk

Goalie Play with the Ball at X
Director of the Peak Goalie camp and head coach of the Boston Cannons will educate us in how he coaches goalie play with the ball behind the goal. 
Wednesday November 11 - 7pm EST

Marc Mancinelli
Using Teacher Pedagogy for Better Goalie Learning
Pedagogy is the theory and practice of how we learn things. Marc - a 20 year teaching veteran will show us how pedagogy can be used to better teach the lacrosse goalie position. 
Wednesday November 11 - 9pm EST

Gussie Johns
Defending the 8 Meter Shot
USC star, team USA goalie, and pro player with the Philadelphia Fire, Gussie will share her tips for goalies to successfully defend those 8 meter shots. 

Thursday November 12 - 10am EST
Tate Boyce

Succeeding as a College Goalie

PLL Waterdog goalie and Providence alum will discuss what it takes to make it at the D1 level of college lacrosse when it comes to the goalie position. 

Thursday November 12 - 3pm EST
Chris Buck 

The Sport of School

We all know good grades are key to getting a college scholarship. Coach Buck will discuss how to help student athletes improve their grades. A must attend for goalies and their parents!
Thursday November 12 - 5pm EST
Bob Rule / Rodney Rullman
Lacrosse Goalie in the 70s 
Panel discussion with 2 goalie greats from the 70s to discuss what has changed and what is still the same since they played.  
Thursday November 12 - 7pm EST

Nick Beattie

Lacrosse in the MCLA

Cal starting goalie shares what life is like playing for a competitive team in the Men's Collegiate Lacrosse Association. 

Thursday November 12 - 9pm EST
Reshaunda Thorton MS RD CSSD

Nutritional Needs for Lacrosse Goalies
Certified nutritionist (and former D1 athlete) will host a comprehensive discussion on fueling needs of goalies when it matters the most.  Before game time, at half-time, and postgame.  
Friday November 13 - 5pm EST
Justin Kieffler
Situational 
Goalie Training + Lacrosse Goalie Drills
Former ice hockey goalie and lacrosse attackman breaks down situational training plus tons of goalie drills. Learn how to train your goalies if you never played lacrosse goalie. How to use drills and video tape to evaluate your goalies and help get them better.
Friday November 13- 7pm EST
Rob Muniz

How to Train Physically to be an Elite Lacrosse Goalie
My bro-in-law and certified personal trainer will share his workout philosophy along with specific exercises for lacrosse goalies to excel in the cage. 
Friday November 13 - 9pm EST
Who is this for?
If any of these sound like you, this summit is meant for you:
Lacrosse Goalies looking for that extra edge 

Lacrosse Parents wondering what the heck their kid has gotten into
Lacrosse Coaches who are clueless about teaching the goalie position 

Virtual Lacrosse Goalie Summit Sponsors
Here are your event's sponsors:
Swax Lax 
Swax Lax balls are perfect for training lacrosse goalies. Their weight and size is a similar to a lacrosse ball because it doesn't leave the bruises on our legs like solid rubber does. Instead of starting with tennis balls, consider picking up a pack of Swax Lax balls. For each live session, we're giving away a sleeve of goalie balls! Plus some single balls too. 1 winner per session but must be present to win. 
Nutty Buddy
Nutty Buddy is my personal favorite jock for protecting the boys. Tons of readers also use the Nutty Buddy and vouch for nothing else. We'll be doing a drawing for a Nutty Buddy shirt or hat at each session. Then 2 grand prize giveaways of a Nutty Buddy Package. Each live session you attend gets you an entry into the giveaway drawing for the Packages.
Lexi Shield
The Lexi Shield is an awesome after-market protection device to help prevent concussions for goalies. The good folks at Lexi Shield offered to sponsor the Summit by giving away 2 free Shields per session. So if you attend live I'll be giving away 2 free Lexi Shields per presentation.
Meet the Host
The Lacrosse Goalie Summit is hosted by Coach Damon Wilson, founder of LaxGoalieRat.com and the host of the Lax Goalie Rat podcast. 
In 1999 I set out to learn the position of lacrosse goalie from scratch. While I made all the rookie goalie mistakes, I fell in love with the sport and this position. I've been coaching lacrosse and specifically goalies ever since. 
My mission with Lax Goalie Rat and this Lacrosse Goalie Summit is to get you that top goalie coaching and education that was sorely lacking back I when strapped on my original Cascade helmet and STX Goalmaster and jumped into the crease. 
I hope you can join me and the top lacrosse goalie coaches in our sport today for this special 3 day virtual training event.